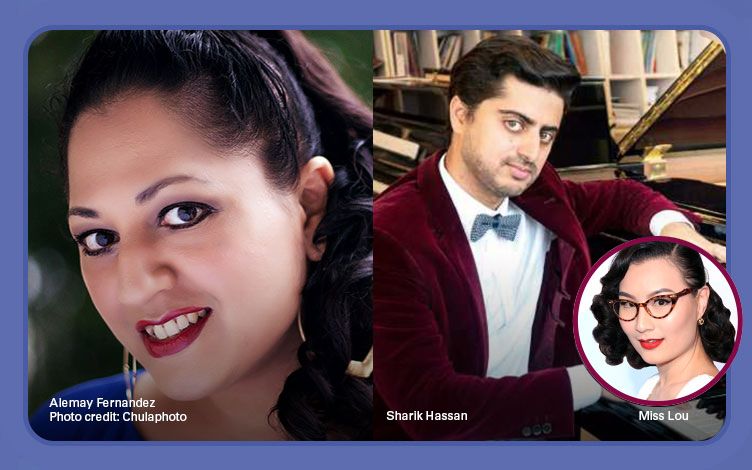 Date: 2 Jul 2021 Fri 
Set Timings: 7.15pm, 8.30pm & 9.45pm 
Set Durations: 30mins 
Venue: Esplanade Outdoor Theatre
I'll be performing 'Girlfriends' Covid Blues', co-written with Alemay Fernandez on 'A Song A Day', LIVE at the Esplanade Outdoor Theatre!
Show description
Singapore vocal powerhouse Alemay Fernandez teams up with virtuoso New York pianist Sharik Hasan (Postmodern Jukebox) for this performance. Joined by Benjamin Poh on bass and Aaron James Lee on drums, expect original material from from her album Hard To Imagine as well as international collaborations that span from traditional and modern jazz to funk and soul. Also look forward to original material from Sharik Hasan and a special guest appearance by Singapore's vintage songbird Miss Lou as they debut the live version of their recent release Girlfriends' Covid Blues. Expect a night of toe-tapping, hand-clapping entertainment that will keep you and your date grinning all night. 
About Date Night Fridays 
Join our vocalists as they promise to excite and stir emotions with their vocal prowess at the Outdoor Theatre. 
About Alemay Fernandez 
Hailed by MusicTalks Sydney as "one of the best jazz singers in the world", Singapore vocalist Alemay Fernandez is a veteran performer in the Asian jazz scene. In her illustrious 20-year career, she has performed with the likes of David Foster, Gregory Porter, Incognito, Ray Parker Jr., Nat Adderley Jr., Ernie Watts, Randy Brecker, Antonio Hart, Jay Anderson, Lewis Nash and The Platters' Bobby Soul, while also opening for Laura Fygi and Benny Golson. She has performed with three of the top jazz orchestras in the world in Jazz at Lincoln Center Orchestra, Count Basie Orchestra and Duke Ellington Orchestra. 
Fernandez has performed with all manner of Singapore orchestras and bands including the Singapore Symphony Orchestra and the Jazz Association of Singapore Orchestras. As an educator, she has worked with vocal students of all ages, conducting vocal and performance workshops. She is a vocal coach for National University of Singapore's Jazz Band and Lecturer at LASALLE College Of The Arts. 
About Sharik Hasan 
Sharik Hasanis one of the leading pianists and composers of his generation to emerge from India. Based in New York City, he has garnered a reputation for his exceptional virtuosity and versatility, making him the top-call pianist for many well- known bands and venues. He tours much of the year internationally with the world-famous Postmodern Jukeboxas well as his own band MND FLO. Hasan is also a Berklee On The Road instructor, traveling globally on behalf of the college conducting clinics, auditions and performances. 
He has performed at venues all over the world including Blue Note, Newport Jazz Festival, Panama Jazz Festival, Kriol Jazz Festival, Nancy Jazz Festival, Mondriaan Jazz Festival and Lincoln Center. Hasan has shared the stage with luminaries such as Jeff "Tain" Watts, John Patitucci, Joe Lovano, Wayne Shorter, Terri Lyne Carrington, Sean Jones, Bill Pierce, Adam Nussbaum, Ralph Peterson and David Liebman, among others. 
Sharik Hasan's latest album with MND FLO, From Time, features his original compositions, which embody an eclectic blend of cultures and acoustic-electric soundscapes. His fluid improvisations convey a natural sense of storytelling, all the while demonstrating an equal fluidity in jazz and Indian classical idioms.
---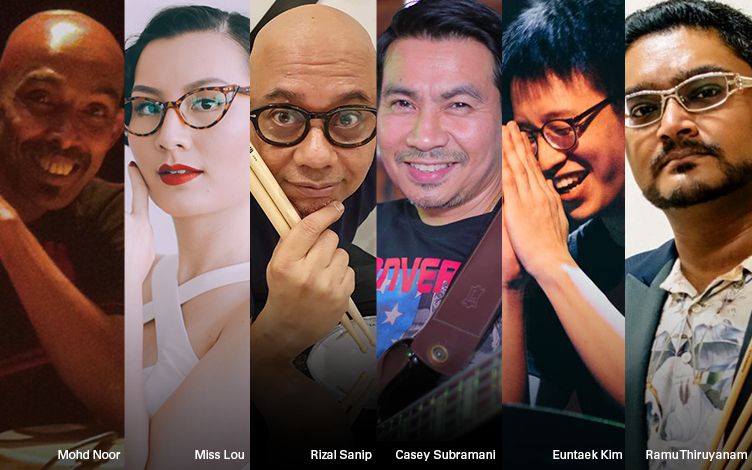 Date: 19 Jul 2021 Mon 
Set Timings: 7.15pm, 8.30pm & 9.45pm 
Set Duration: 30mins 
Venue: Esplanade Outdoor Theatre
Enjoy an evening of Latin jazz and salsa tunes as vibraphonist Ramu Thiruyanam shares the stage with percussionists Rizal Sanip and Mohd Noor, together with Euntaek Kim on keys and Casey Subramaniam on bass. This performance will also feature selected works by Tito Puente, Ray Barretto, Tania Maria, Dave Samuels and more. 
For the first time ever, Project Ra: The Vibes Collective will be performing alongside Singapore vocalist Miss Lou (also known as Lou Peixin). Brace yourself for a blast of rhythmic juxtapositions and Afro-Cuban grooves that promises a night to remember. 
About the band 
Formed in 2013, Project Ra: The Vibes Collective is a group of friends who have a passion for Latin jazz and making music together. The individual members of the band are specialists  and well known in their respective fields, with many years of experience leading and performing, arranging, composing and teaching. The band has also previously performed at Esplanade's Mosaic Music Festival.