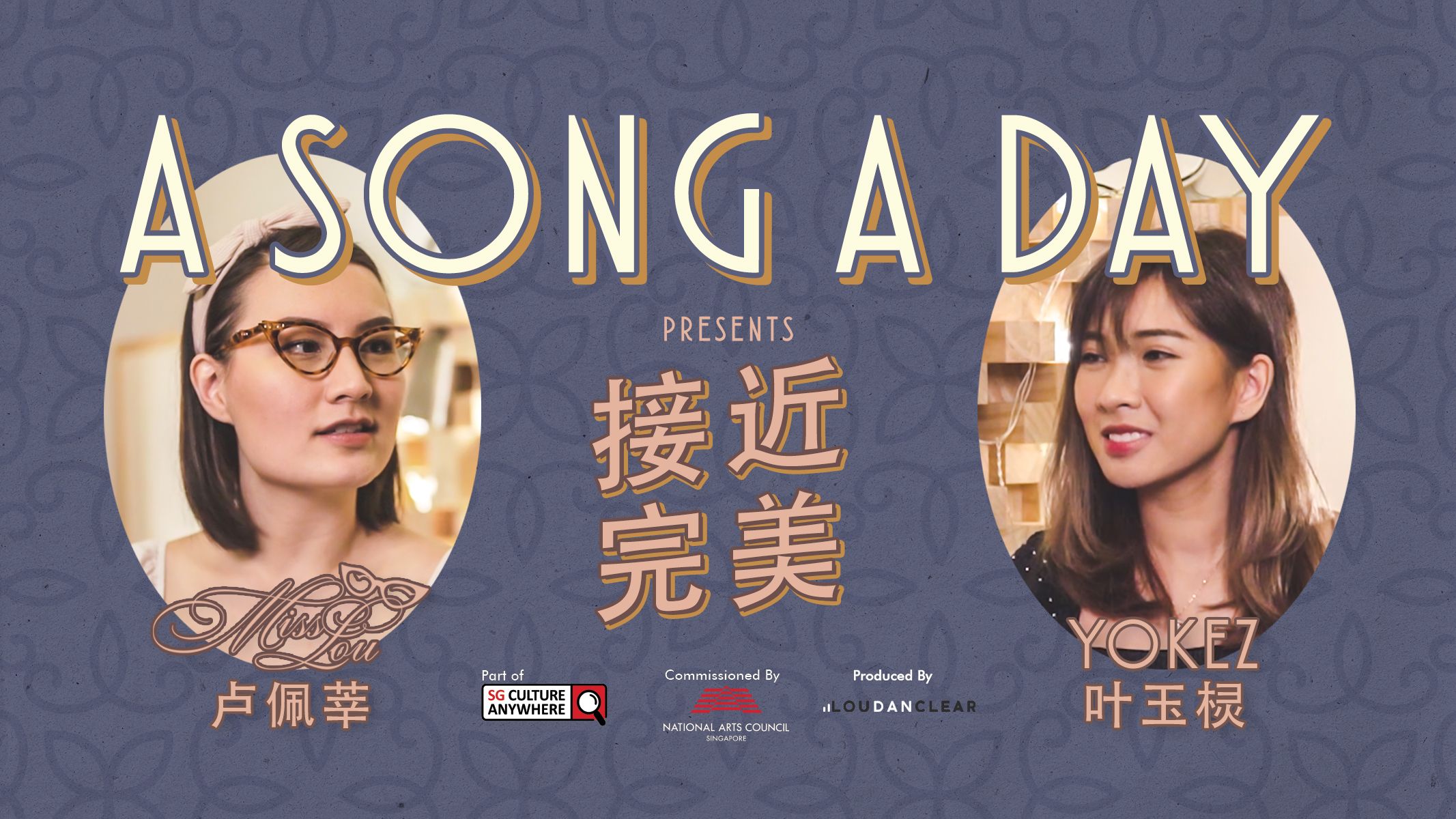 Perfection is an impossible goal, and the pursuit of it can be self-destructive. Will we ever measure up to others' expectations? Inspired by both Miss Lou and Yokez's journeys as young women in entertainment, 'Close to Perfect' captures the journey of questioning the pressure to being contented with always moving towards but never attaining perfection. This is Miss Lou's first release in Mandarin.
完美是几乎不可能的目标。在盲目追求完美的当儿,是否忘了做自己,爱自己?我们有可能满足所有人的期望吗?对于这些发人深省的问题,本地独立女创作歌手 Miss Lou 卢佩莘 和 Yokez 叶玉棂一气呵成,在一天之内完成了合唱歌曲《接近完美》。Miss Lou 卢佩莘 一直活跃于英语乐坛,《接近完美》是她首支中文单曲,正式跨足华语乐坛。 
两人探讨在娱乐圈打拼的经历,以及对"完美"的见解,发现女性常常被打上各种标签,永远"不够好",久而久之产生出一种恶性循环。Yokez 表示曾收到 "长得像猪","狗唱歌都比你好听" 等毫无建设性的负面评语。对于这些评语,她选择一笑而之,把精力专注在有建设性的评语。两人希望通过《接近完美》传递正能量,鼓励大家勇敢做自己。
WATCH 'A SONG A DAY' EPISODE 6 NOW
Stream '接近完美 Close to Perfect' now
About Yokez 叶玉棂:
Facebook - https://www.facebook.com/YokezOfficial/
Instagram - https://www.instagram.com/yokezofficial/
---
About "A Song A Day": A Song A Day is a 7-part collaborative songwriting web series hosted and produced by Miss Lou, where she gets into the studio with 7 different guest artists to write a new song with each guest in a day based on crowd-sourced prompts on Instagram. Fans and viewers are invited to participate in the creation of each song, and each episode documents the writing session and lifts the veil on the songwriting process. The genres cover a whole spectrum, from Dance Pop to R&B, Smooth Jazz to Traditional Jazz, showcasing Miss Lou's versatility in co-writing across musical boundaries.
The series is supported by the National Arts Council and part of SG Culture Anywhere.
---
'接近完美 Close to Perfect' 音乐制作团队 credits:
词 Lyrics:Miss Lou 卢佩莘, Yokez 叶玉棂
曲 Music:Miss Lou 卢佩莘, Yokez 叶玉棂
编曲:Miss Lou 卢佩莘, Daniel Chia, Shane Heng
音乐制作人 Music Production: Miss Lou 卢佩莘, Daniel Chia, Shane Heng
弦乐器编曲 String Arrangement: Miss Lou 卢佩莘, Shane Heng
键盘 Keys: Daniel Chia
吉他 Guitar: 洪宜荣 Kelvin Ang
贝斯 Bass: Colin Yong
鼓 Drums: Rizal Sanip
混音 Mixed and mastered by Shane Heng
录音师 Studio Engineer: Shane Heng
录音室 Recorded at Loudanclear Studio
---