I had such a blast performing my songs for the crowd at the
Urban Ventures X House of Noise
street party at Keong Siak Rd last Saturday! My heart is so full! This was my FIRST-EVER all-originals show, but there's only going to be more to come! (':
What I wore
I knew it was going to be warm and humid since it was an outdoor/open air stage, so I put my hair up into a victory roll in the front and curled the rest of my hair, threw on a wire headband that matched my
true vintage 1950's powder blue gingham dress
. I paired my outfit with an ultra-comfortable pair of vintage-inspired leather Marisa sandals from
Charlie Stone
. 
This has been my favourite way to wear my hair for performances lately, because it keeps all the hair out of my face. A scarf or headband also keeps things cute haha. I need to get my hands on more vintage nylon scarves that are of the right dimensions for vintage hairstyles! 
Pre-show issues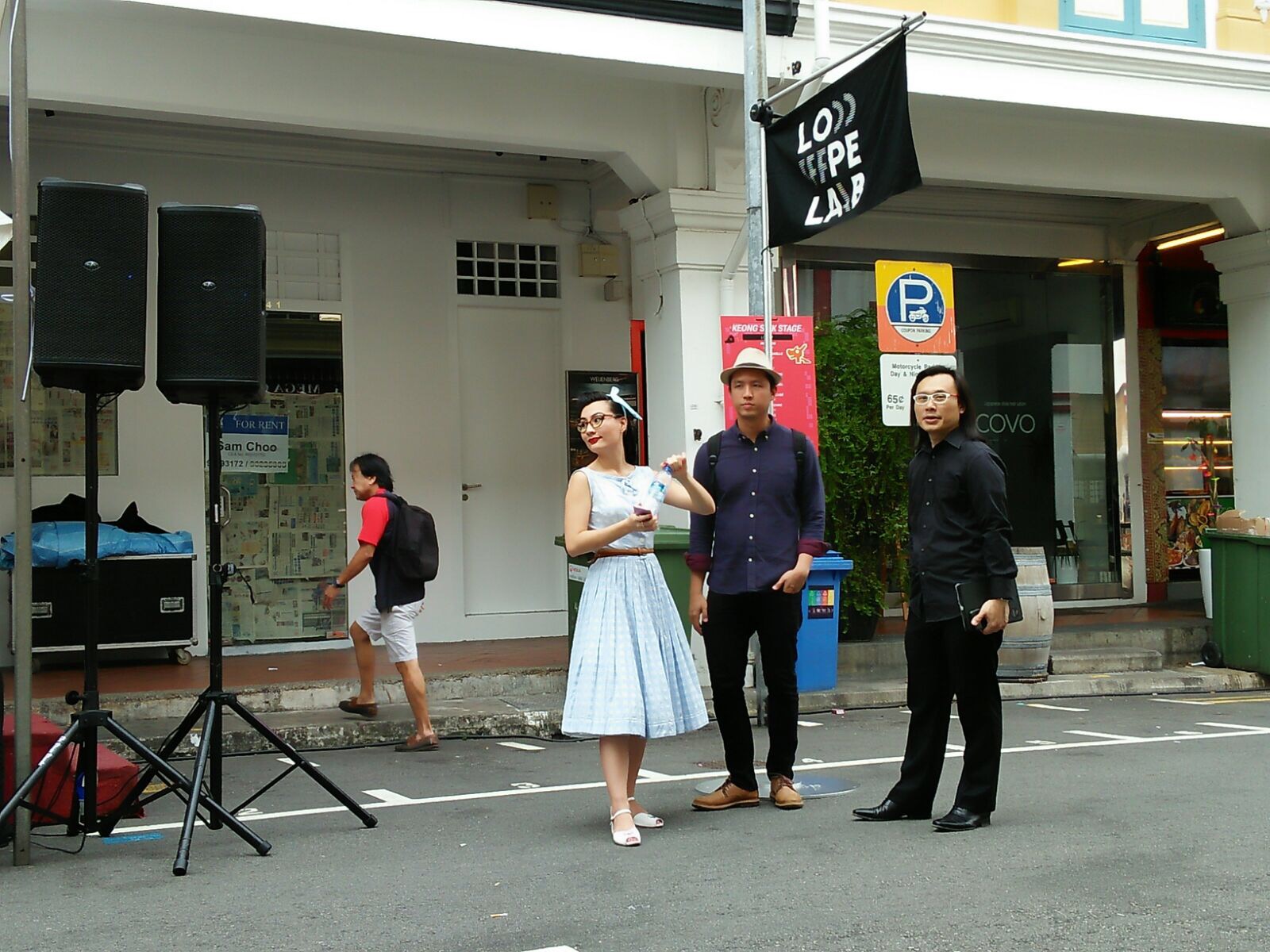 Chilling around with two-thirds of the band while waiting for soundcheck 

We ran into technical difficulties at the beginning that delayed the start of my set, and with the looming dark clouds overhead, I was secretly worried that it'd start pouring. I might look calm in the photo above but knowing my luck, I was definitely worried haha. Thankfully, the sound crew managed to resolve the technical issues and we finally took the stage at 4.30pm at the Keong Saik stage (we were supposed to go on at 3.50pm)! Phew.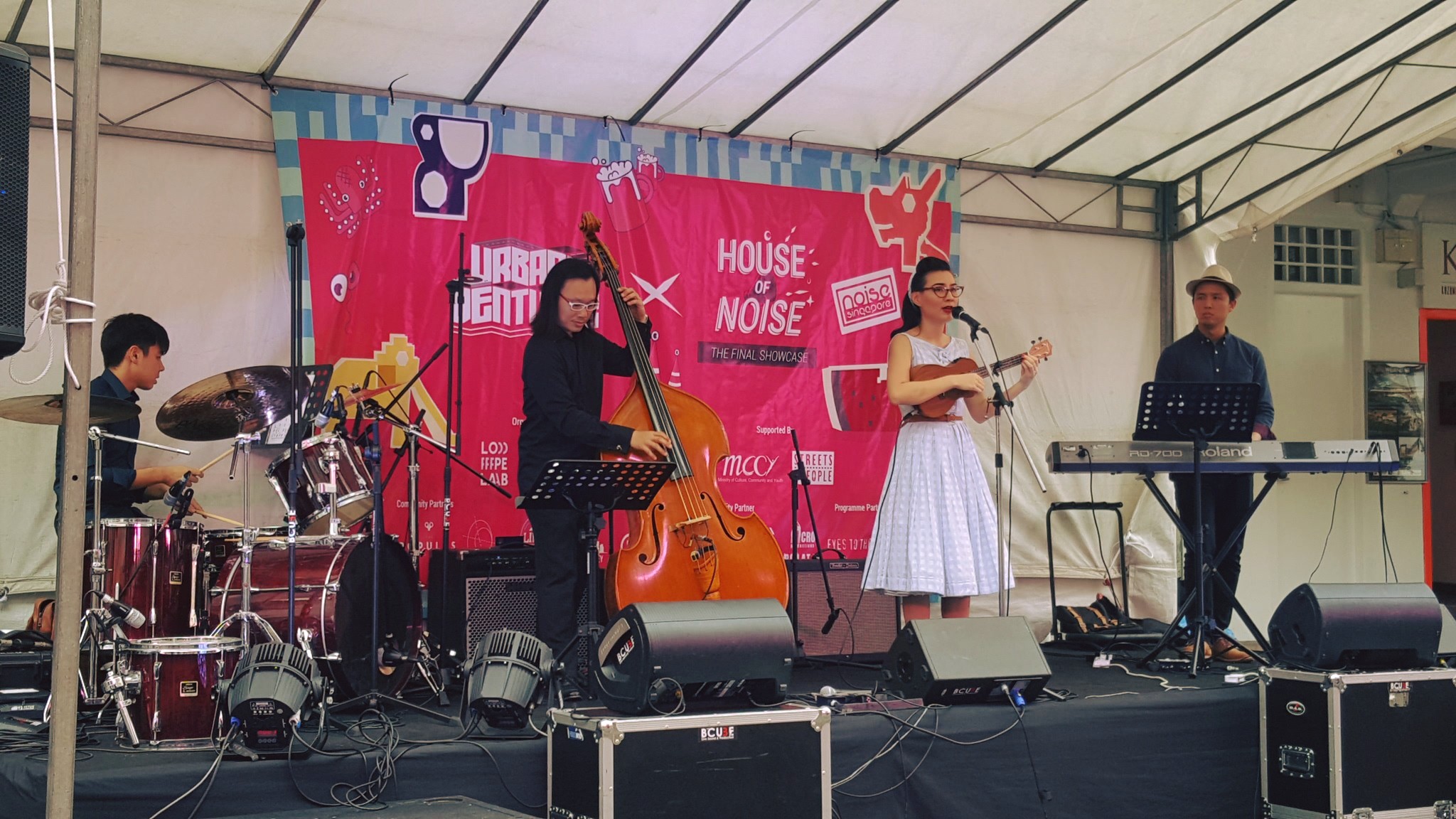 These wonderful musicians have been so kind to support me - my songs wouldn't be complete without them. They make me sound good!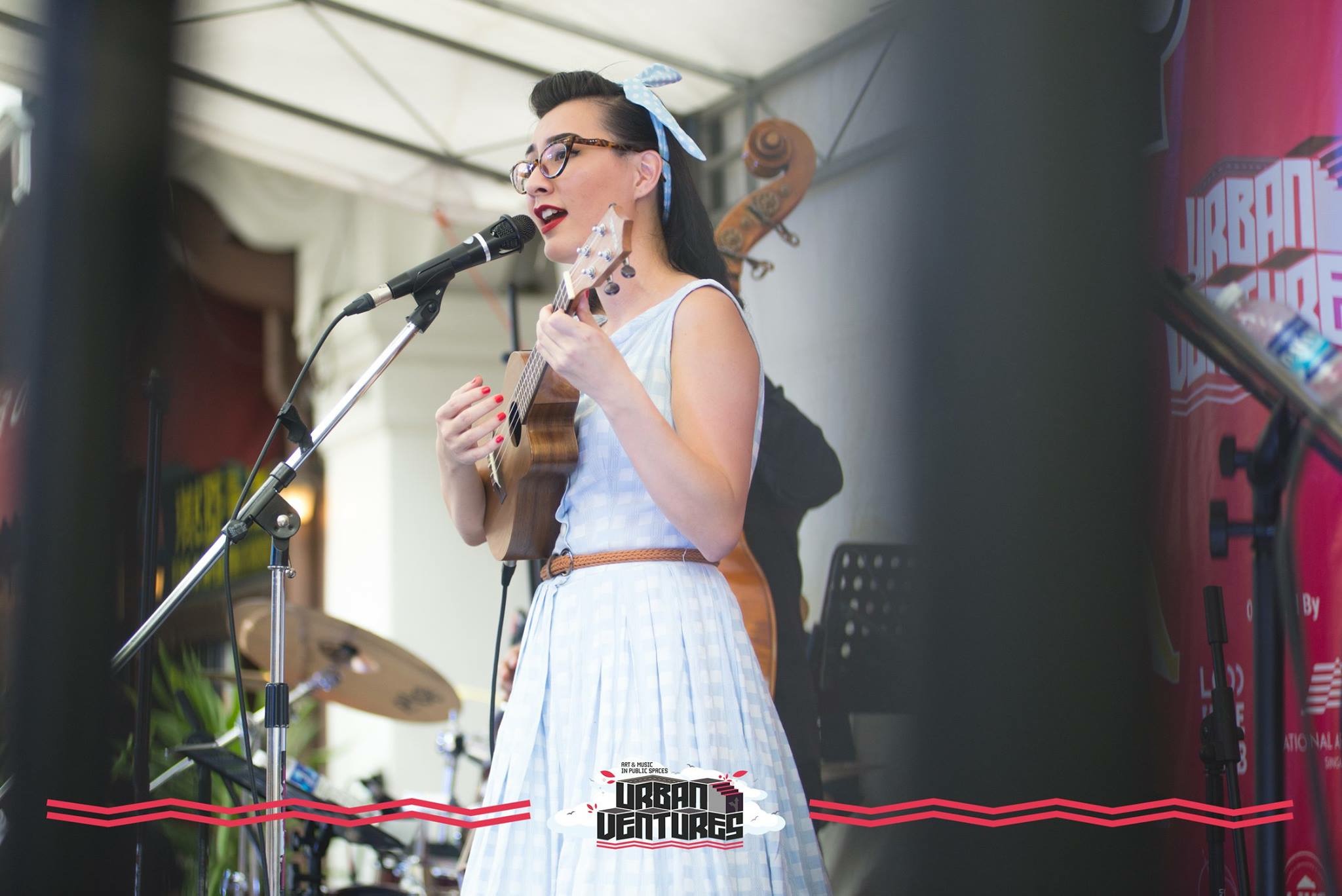 Photo by Raphael Ong (http://rphl.me/)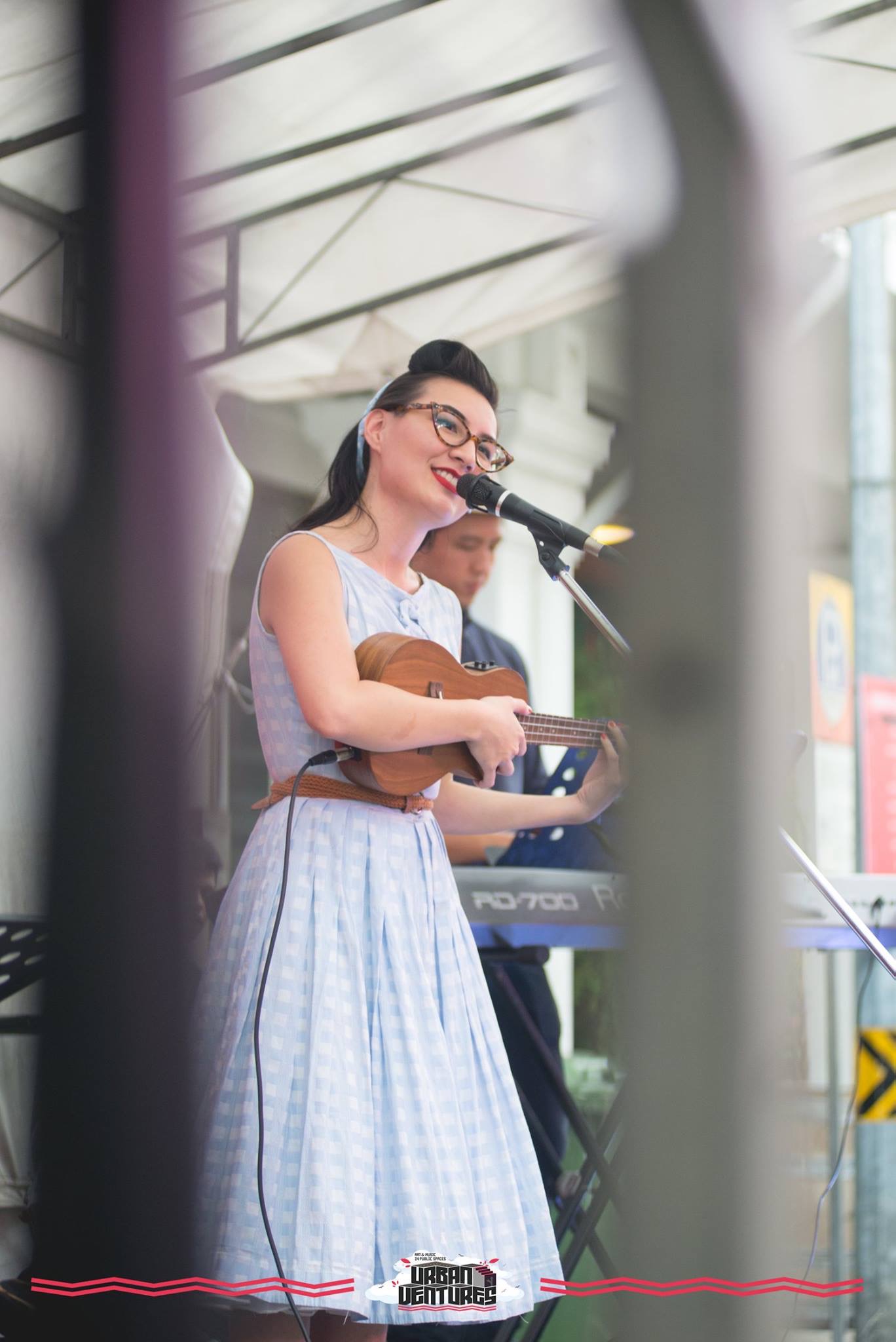 Photo by Raphael Ong (http://rphl.me/)​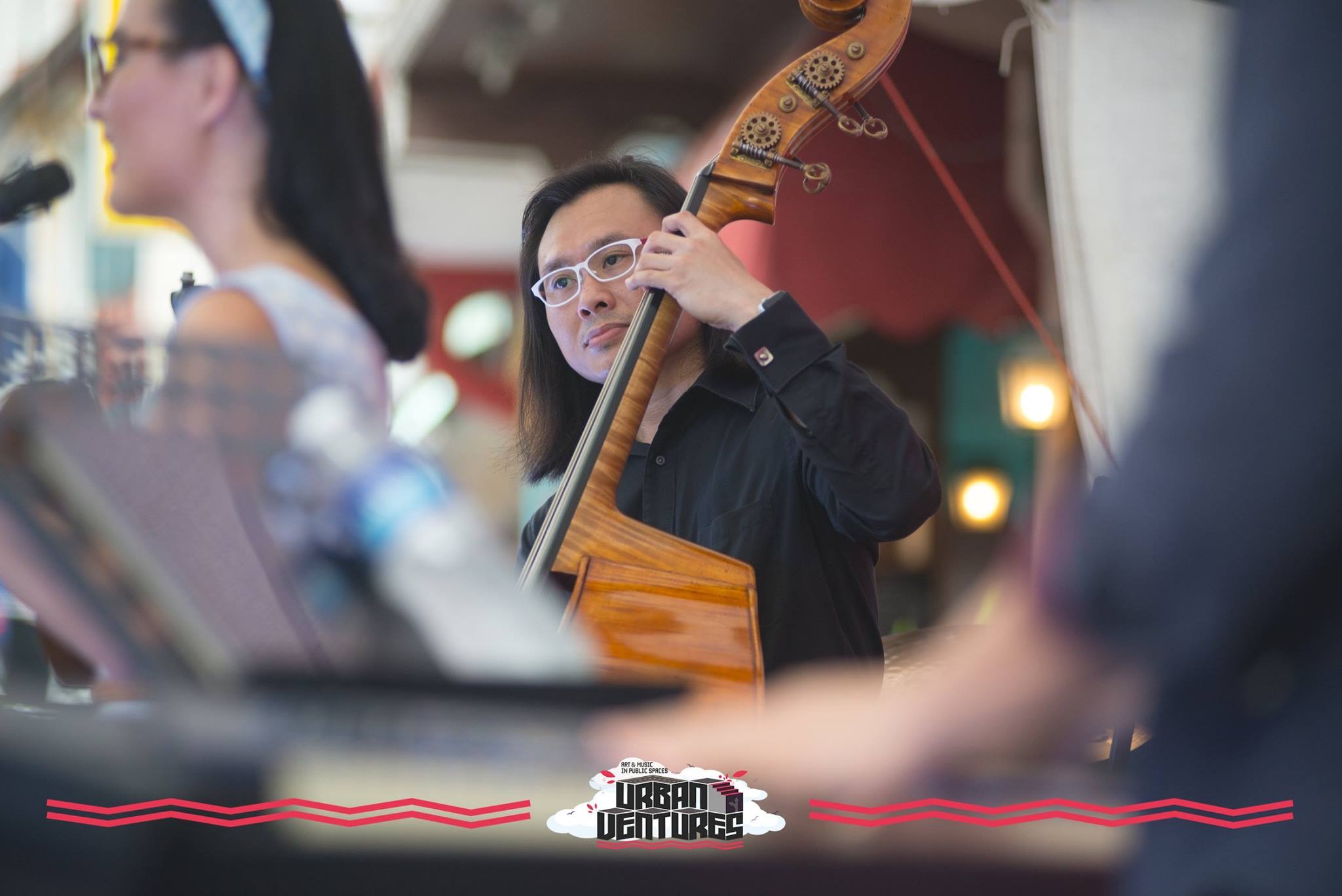 Here's Brandon, who has been so supportive since I first knew him from being a stagehand at Another Crazy Christmas in 2008! 
Photo by Raphael Ong (http://rphl.me/)
I was really surprised to see people in the crowd starting to mouth the words to my songs (the choruses)! There were people moving to and clapping along with the music, which always puts a smile on my face (':

If you're looking for the set list, here it is:
1. Right Next to You 
2. Better Off Without You 
3. Timeline 
4. Spot of Sunshine 
5. Sophia  
I got to play two new songs, Right Next to You and Timeline, for the first time, which makes it a world premiere, right? If you were there, you got to hear it first! YAY.

Here's a crowd-sourced snippet of Sophia, taken by Calvin (instagram.com/tangyoucalvin):
 

Post-show photos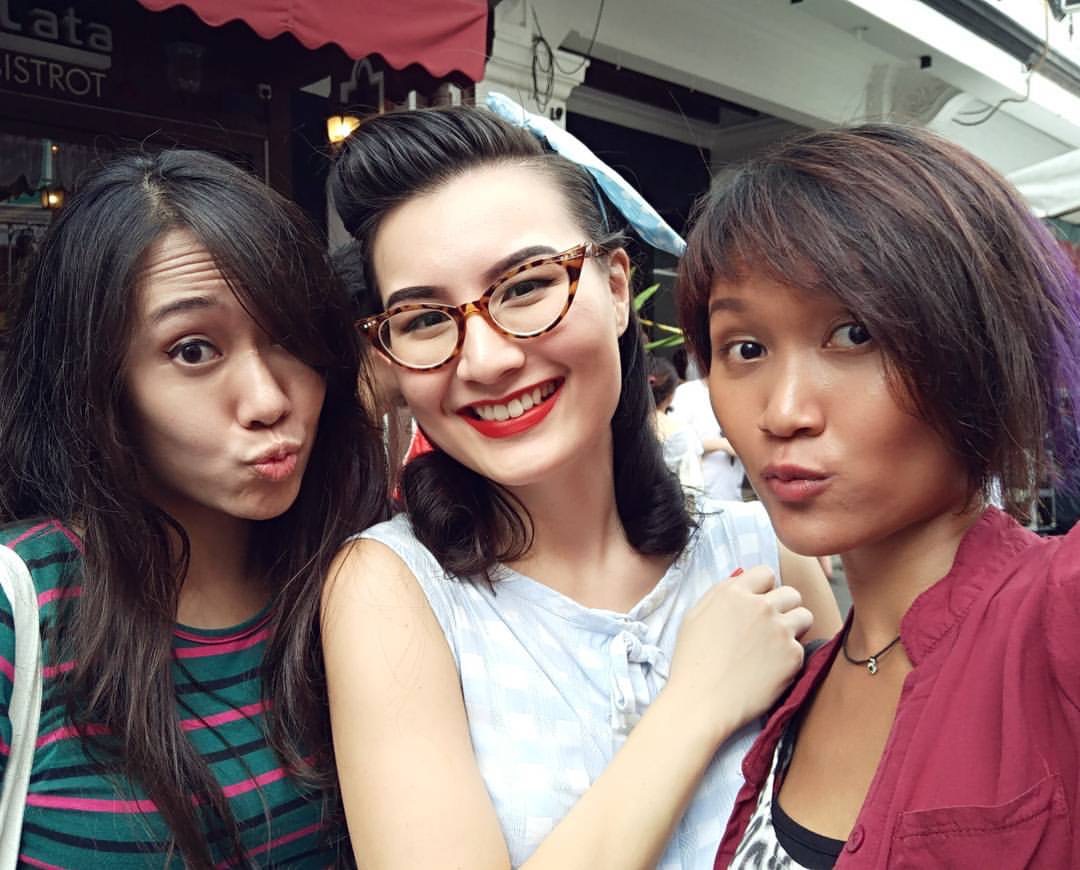 With my girls Sophie and Salima (aka Sasha M!) after my set
Photo credit: Sasha M - read more about her experience at the show on her blog here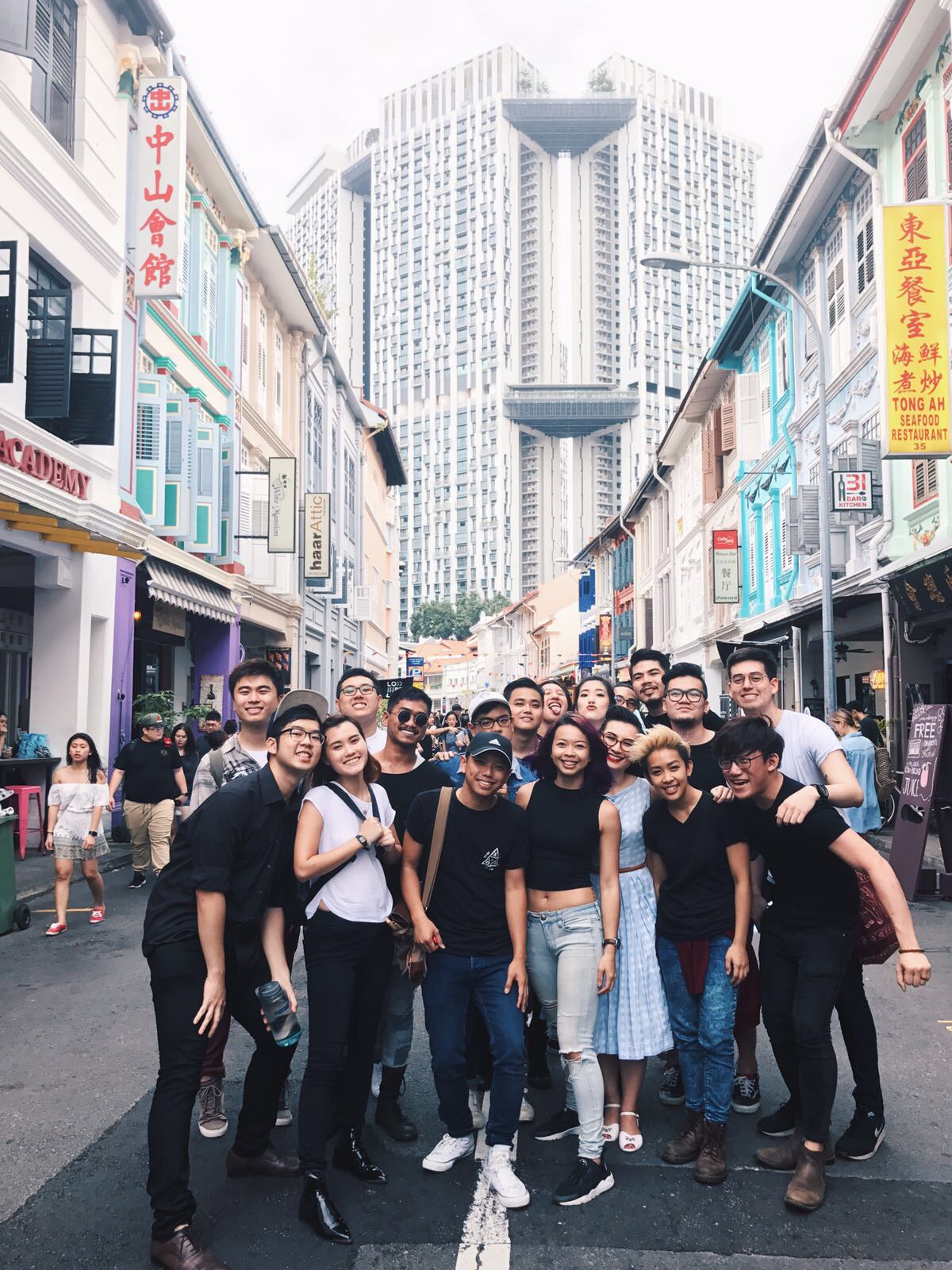 All of Sara Wee's mentees, past and present, from the Noise Music Mentorship programme! Pictured: HubbaBubbas, The Great White Lark, Sally Suitcase, Sam Driscoll, JAWN, Jean Goh Seizure, and of course Sara herself right in the middle

 
Sara (from Singaporean band 53A) has been a great mentor to me. Like I mentioned in my Lush995 interview, I couldn't think of anyone more appropriate to mentor me on this Noise journey! So thankful for the opportunities and good things that came with being part of the programme: workshops, the House of Noise shows, video and audio recording of our originals at Snakeweed Studios, my first radio interview, interaction with the mentors, and friendships with my fellow mentees. I highly recommend all budding musicians to apply for the Noise Music Mentorship 2017 and beyond! 

This concludes my journey in the Noise Music Mentorship 2016 by the National Arts Council (NAC)! If you have any questions about it, don't hesitate to contact me either by leaving a comment below or sending me a message via my contact page. I'd be happy to answer your burning questions (:
If you were there, a huge thank you for coming down and catching my set! Let me know what your favourite song was!

With love,