REGISTER NOW: http://louminary.co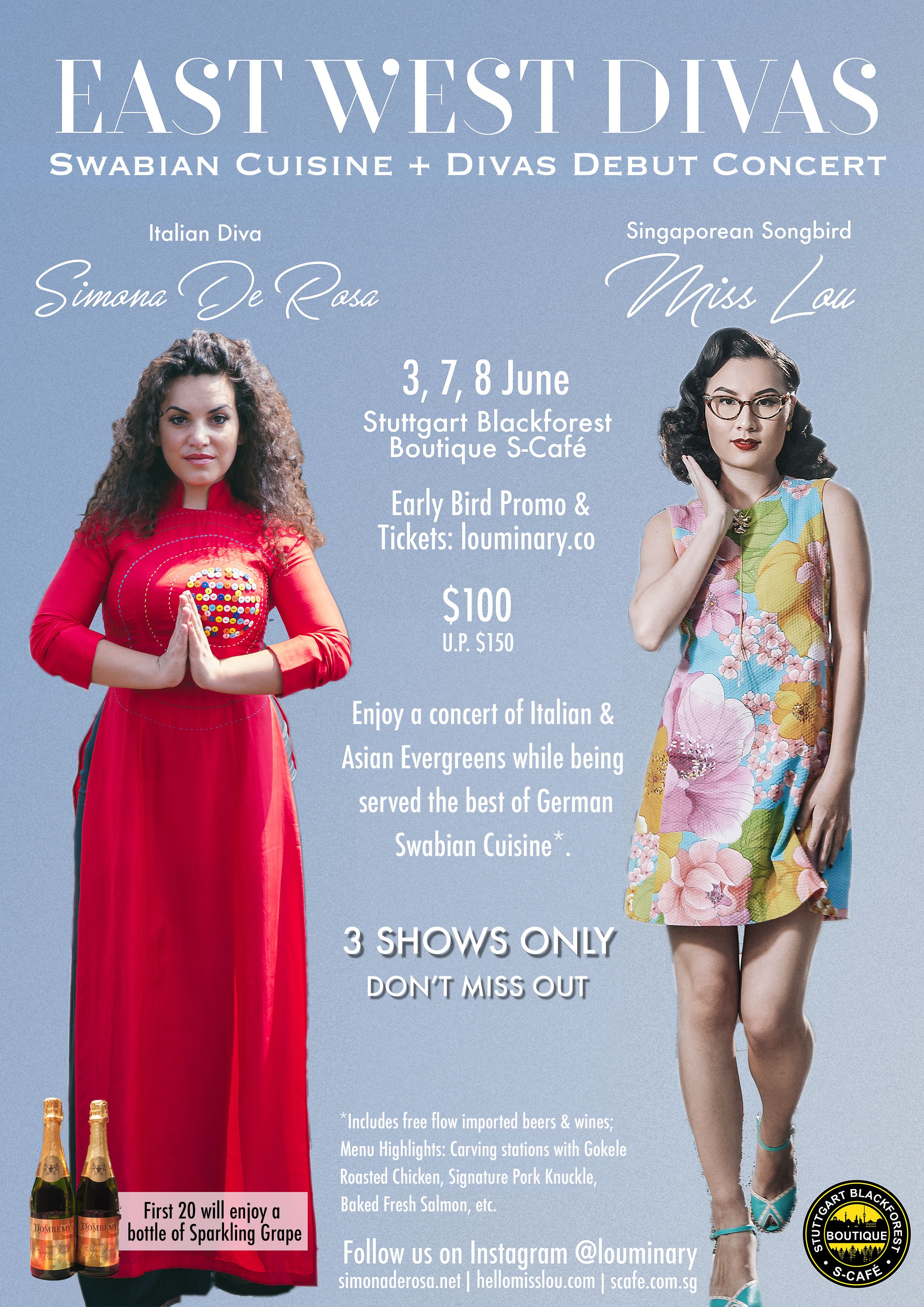 Italian Diva meets Singaporean Songbird to form Unprecedented Diva Duo in Classic Evergreens. 
With their combined influences from the East and the West, bonded by a shared language of Jazz, expect original combinations of Italian Classics, Asian Evergreens, and Popular Favourites that all will enjoy. 
Come and join us for an evening of world-class entertainment, featuring Miss Lou (Singapore's Glamour Vintage Songbird) and Simona De Rosa (an Italian award-winning singer, composer, educator based in New York City). 
Backed by Singapore's leading band for International artistes, the East West Divas repertoire of songs include favourites like: 
O Sole Mio, Volare, Dream a Little Dream, favourites from Teresa Teng, just to name a few of the Classic Evergreens. 
Set in the heart of Singapore's downtown heritage district, you will get to enjoy the show while being served the best of Swabian Cuisine with free flow Stuttgart beers, House pour wines and juices at Stuttgart Blackforest Boutique S-Cafe. 
Stuttgart Buffet Menu Highlights: Homemade Swabian Pumpkin Soup and Appetizers, Carving stations with Gokele Roasted Chicken, Signature Pork Knuckle, Baked Fresh Salmon, Sausage Platter Selections and Mashed Potatoes with Sauerkraut. 
- 
Dates: 
Sunday, 3 June: Glamour Vintage Brunch (Miss Lou's EP Launch + East West Divas) 
Thursday, 7 June: East West Divas - Swabian Cuisine + Divas Debut Concert 
Friday, 8 June: East West Divas - Swabian Cuisine + Divas Debut Concert 
- 
Ticketing Promotions: 
Buffet Dinner with free flow drinks (Stuttgart Beers and House Wines) + Diva Show  
Usual Price: $150/pax  
Early Bird exclusive : S$100 per pax (min 2 pax) 
3 shows only! Book now to avoid disappointment.
REGISTER NOW: http://louminary.co